GO-TO CHOICE FOR BUSY PROFESSIONALS
India Business Visa Service
If you have upcoming travel for work and are need of an India business visa, count on Swift to make the process easy and quick!
Estimated at 1.2 billion, India's population alone is enough to boggle your mind. And that's not the only really big aspect of this Asian country. It's big on languages, with more than 1,000 different languages spoken throughout the country. It's big on mega-cities, with three of the world's top 10 mega-cities within its borders: Delhi, Mumbai and Calcutta.
India can also be a big destination for doing business, big or small, provided you apply for an India business visa well in advance of any scheduled meetings or plans.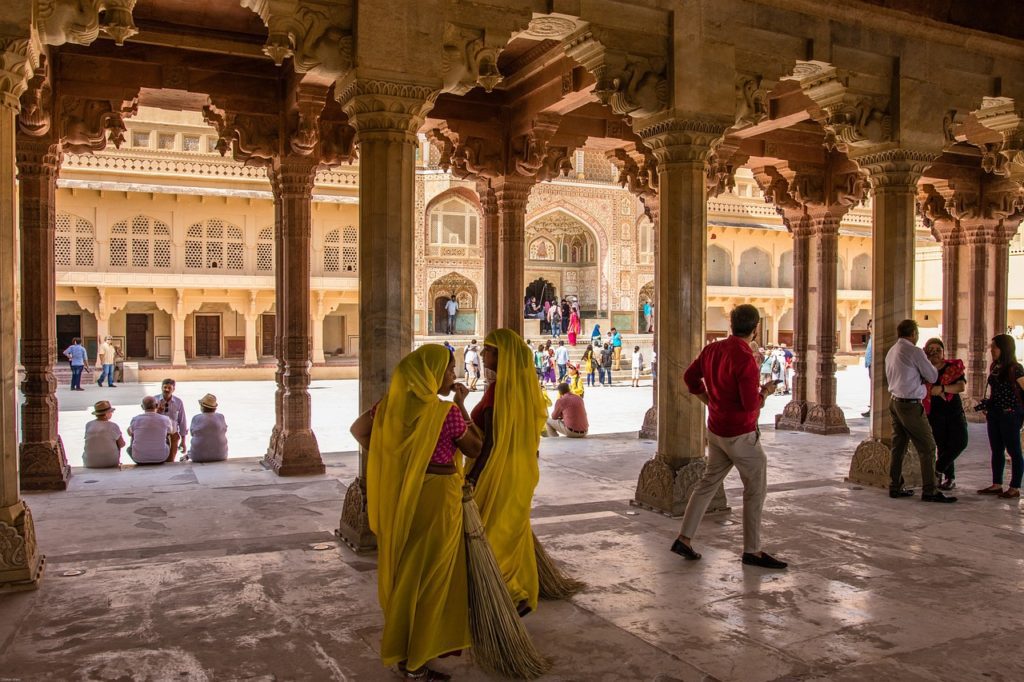 For decades, Swift has worked closely with small business owners, corporations, and professionals to help them procure India business visas.  Our process is simple, efficient, and frustration free for busy travelers.  See how our process works below: 
India Business Visa Requirements & Documents
The time it takes to obtain an India business visa is set at the sole discretion of the Indian Consulate. The Consulate uses the third-party office of Cox & Kings Global Services to process all visa paperwork, and processing times can change drastically and without notice. It's not uncommon for processing to take up to 25 business days. It's advised you secure your India business visa prior to confirming or paying for any travel arrangements.
You can, however, obtain an India business visa that's valid for multiple entries over a one-year, five-year or 10-year period, making it easier to travel regularly to the country for business. Other business visa options include a one-time entry valid for 30 days after arrival.
When it comes to procuring India business visas, Swift knows the process inside and out.  We work closely with each of our customers to ensure their visa matters are handled quickly and efficiently, saving them considerable time and money.  After you place your business visa to India order, we will provide you with a full list of requirements.  We'll walk your through these requirements step-by-step until your order is completed and your visa is shipped to you.  We'll get you there!
Ready to Start Your India Business Visa Application?
ndia has swooped into action over the past two decades, becoming the seventh-largest economy in the world based on gross domestic product (GDP) and third-largest based on purchasing power parity (PPP). Its growth rate has increased by about 7 percent over the past 20 years, topping China as the fastest-growing major economy since the last quarter of 2014.
The country is expected to continue its economic climb. Contributing factors include its healthy investment and savings rates, its youthful population with a low dependency ratio, and ongoing integration into the global marketplace.
The wealthiest economies in India are the states of:
Maharashtra, with an annual GDP of $220 billion
Tamil Nadu, with an annual GDP of $140 billion
Uttar Pradesh, with an annual GDP of $130 billion
Doing business in India could involve any number of different industries, from textiles to tourism, food to pharmaceuticals, steel to education and training. The service sector is huge, as are the software and technology markets.
Many American businesses employ Indian programmers, both for low-cost labor and the 24-hour business benefits. Since offices in the U.S. and India have about a 12-hour time difference, projects can be worked on around the clock, resulting in a rapid 24-hour turnaround when required or desired.
Even if your Indian host speaks perfect English and makes you feel at home, don't expect doing business in India is the same as doing business in America. The workday generally starts later, ends later, and things tend to take a lot longer to get done. As Business Insider notes, something you think will be done in a week will likely take more like a month.
Indian business people prefer doing business with those they know, making long-term relationship building an essential business element. The first meeting is often a meet and greet, without any business being discussed. Schedule meetings far in advance, preferably by letter, and confirm before you go. Last-minute changes or cancellations are not uncommon. Respect religious holidays and map them out to avoid business during those times.
Being punctual is a must, as is dressing the part. Conservative dress is the way to go, with men wearing dark-colored suits and women wearing conservative suits or dresses.
Titles and last names are used for addressing others, only use a first name after you've been invited to. Indian businesses often expect concessions to be made to meet their needs; you can expect the same. Status is based on age, university degree, profession and caste, with decisions made by the person with the highest authority.
Shaking hands is done between men, but not typically expected with women. The firm handshake prized by Americans is not as important, with Indians much more relaxed about the gesture. Do exchange business cards with the introductory handshake, using your right hand to give and receive them.
Indians typically don't disagree overtly, as they're rather non-confrontational. Openly disagreeing with your own team is a quick way to lose face and respect. Reaching an agreement is often celebrated with a meal.
Even if you're not invited to a meal to celebrate, indulging in the wide and wonderful selection of Indian cuisine is a must while you're there. The vast regional differences in climate, soil types, ethnic groups and locally available spices, herbs, and vegetables result in vast differences in regional fare.
From North India's Punjabi and Kashmiri cuisines to South India's Mangalorean and Telugu, you have more than three dozen different regional cuisines from which to choose. India as a whole has long been hailed for its spices. Some even credit spice trading between India and Europe as prompting Europe's Age of Discovery.
A trip to India would also be remiss without a trek to the Taj Mahal. This massive white marble mausoleum was originally built in between 1631 and 1648 in honor of the favorite wife of the Mughal emperor Shah Jahan. Located in the city of Agra in the state of Uttar Pradesh, the Taj Mahal is hailed as a masterpiece of symmetry, art, architecture and cultural heritage.
One last note is the variety of people, places and things you may encounter on your trip. Traveling to India for business often involves traveling all over India for business. Overseas business travelers have a base where their airport is, but they're usually heading from city to city to best capture the market. Your trip to India may involve the same, giving you a chance to fully absorb and enjoy a variety of what the country has to offer.